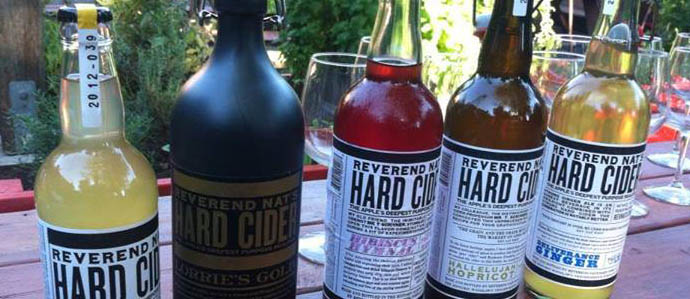 "As a die-hard craft beer revolutionary, I experimented with beer yeasts, wild fermentations, Belgian ale spices, aromatic west coast hops and local fruit juices. As an historian of cidermaking (I have the largest cider book library in Portland), I recreated forgotten cider styles and practiced juicing and fermenting techniques long out of fashion. Permeating all these experiments was an obsession with flavor. I would cook a dish, eat at a restaurant, drink a beer or a cocktail, or peruse the farmer's market, and be unable to contain my excitement for flavors. After making cider for nearly a decade, I concluded that, while apple-only ciders define cider for most of my fellow countrymen, my passion was in creative flavor combinations.
I started Reverend Nat's Hard Cider in my basement, quickly grew into the garage, and in May 2013, moved into an abandoned warehouse in inner Northeast Portland near the Rose Quarter. Now I sell my ciders in five states (if you call British Columbia a state) and have a Public Taproom where I can join locals and visitors alike in enjoying one of my creations."
- Reverend Nat
Check out some awesome cider at this special tasting!
Tasting at Uptown Market on Thursday, April 2nd from 5pm - 8pm